1.Climate and terrain
Within China, the southern area falls in within the tropics. With warm temperatures and abundant moisture, golf can be enjoyed throughout the year. During the summer season (from May to Oct.), sultry weeks will continue due to the high humidity. Temperatures can reach as high as 36°C (97°F) with the humidity also as high as 90%, requiring anti-heat measures. Even on cloudy days, if well-ventilated clothing is not worn, one may still be subject to heat exhaustion. Be sure to wear breathable clothes and drink plenty of fluids. Also, beginning in May, typhoons are expected to continue doing the summer squall season, making rain gear a must. During the winter season (from Nov. to Dec.) temperatures and humidity will drop to about 8 to 18°C (46 to 64°F), and is probably the best season for golf.
The north of this area are mountains, while to the south is the delta of the Zhu river. Each golf course offers a unique experience with a large variety, from flat coastal courses to precipitous mountainous ones.
2 Golf courses and play
Many major cities including Shenzhen, Dongguan, Guangzhou, Zhuhai, Hong Kong and Macau are all in the vicinity of this area. As of 2012, there are over 60 golf courses offering a variety of flat, mountainous and seaside golf courses. Also, many golf courses boast glamorous club houses which are not outdone by even Japanese or American ones.
Currently, players are primarily from the nearby major cities, most of whom are from Hong Kong; therefore, on the weekends, the three golf courses inside Hong Kong are generally members only, and others surrounding the city become extremely crowded as well. Many courses in the neighboring Shenzhen also require an accompanying member, and reservations are quite tight. With the courses outside of these areas, however, most are open to visitors on weekends as well.    
As a general rule, plays are 18-hole through plays. Rental shoes and rental clubs are available at most courses, however, it would be best not to expect too much.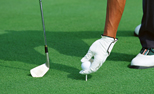 At Sandia, we are constantly updating the prices of golf club memberships for clubs in southern China. However, if the price for the golf course membership you desire is not listed, please feel free to contact us
(Click here to for a list of prices of golf course memberships)